2-K-DOS
Adapter for the mixing and dispensing system
The 2-K-DOS dosing and mixing system quickly and precisely mixes and doses 2-component casting compounds and adhesives based on polyurethane, epoxy and silicone. With its modular design, the dosing device can be adapted to a wide variety of applications. Values for the mixing ratio, the delivery rate and the dosing quantity that can be set with high resolution always ensure precise mixing and dosing.
The mixture is always precisely mixed by the device and made available free of air bubbles. The two components are conveyed under computer control from the storage tanks integrated in the dosing system via a flexible hose to the dosing head, where they are mixed with an easily exchangeable static mixer.
With the different variants, which can be formed due to the modular structure and the various additional devices and accessories, the most diverse casting tasks can be solved with the 2-K-DOS mixing and dosing system.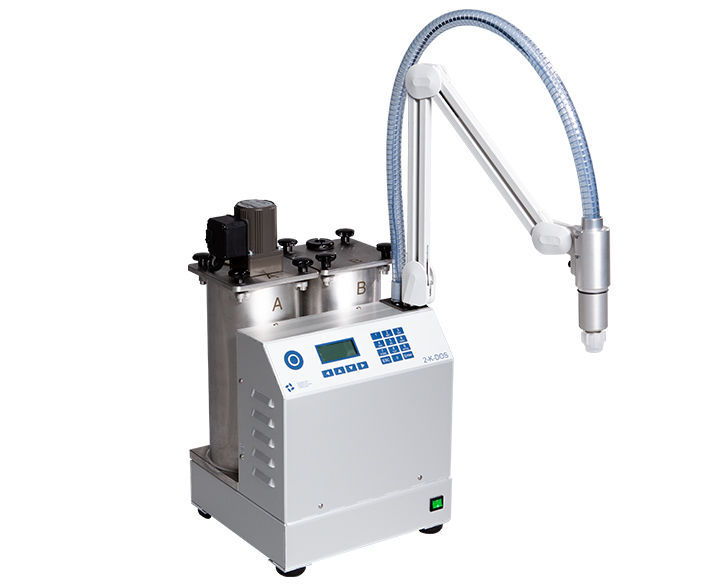 Advantages over hand mixing
| | |
| --- | --- |
| mixing ratio | 1.1 to 1:10 * |
| production rate | 20 – 1,000 g/min * |
| shot amount | from 2g or continuously * |
| container sizes | 4, 10, 15 liters ** |
| Dimensions | W x D x H = 320 x 320 x 700 ** |
| Weight | 35kg ** |
| Length of dosing hose | 90 cm ** |
| mains voltage | 240V |
| power consumption | 150VA |
| test mark | CE |
* Depending on potting compound
** Depending on variant
Additional devices of the mixing and dosing system