LIN-DOS SW
potting machine
LIN-DOS SW is a three-axis linear unit for the automatic casting of rails, especially LED light strips together with the mixing and dosing devices 2-K-DOS T or 2-K-MiniDOS.
The device consists of a rail, the X-axis, on which a carriage moves that carries the mixing and dosing systems, which are moved directly along the light strips to be cast for dosing.
An arm attached to the carriage that can be moved in length, Y-axis and height, Z-axis carries the dosing head of the dosing devices. This means that several adjacent LED rails can be cast automatically. The speed of the car, the driving and dosing distances or points are programmed and operated with a menu-driven touch panel.
The dosing is controlled by the LIN-DOS SW. The speed of the trolley and the dosing rate can be fine-tuned to each other.
Optionally, the LIN-DOS SW can be equipped with a double trolley for 2 dosing systems. Together with the 4-K adapter, up to 3 different mixtures can be dosed, eg mixtures with different scattering or turbidity fillers for LED strips.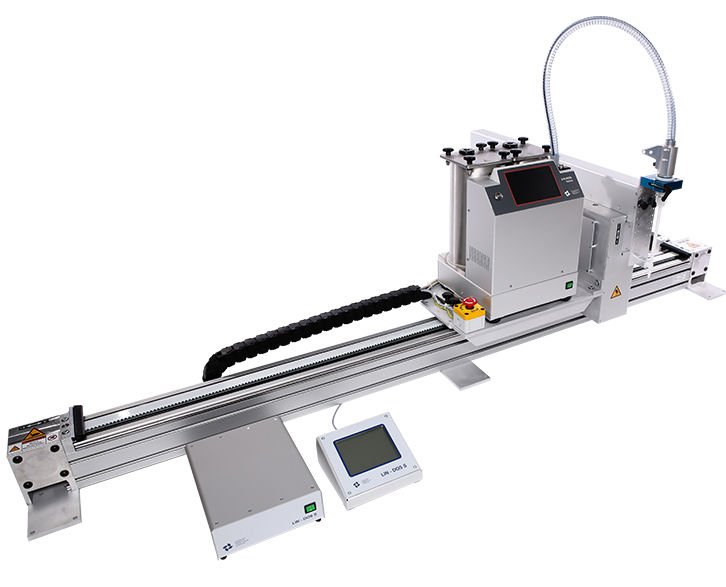 Max. dosing section:
X: 6 m, more on request
Y: 30, 50cm
Z: 110 mm (More on request)
length
Dosing distance X + 60 cm
Broad
Dosing distance Y + 60 cm
Height
50 cm
transport speed
1.0 – 100mm/sec.
Weight
Depending on length, at 6 m 100 kg
mains voltage
94-264V, 50-60Hz
power consumption
150VA
positioning error
+/-0.3mm
repeat accuracy
+/-0.1mm